January 3rd, 2020 → 11:49 am @ Carol
Tax season special for 2020
If you buy Business Tips and Taxes for Writers ($14.95 plus $4.33 shipping) from this website (i.e. not through Amazon.com or other bookseller), I, author Carol Topp, CPA, will share with you two recorded videos.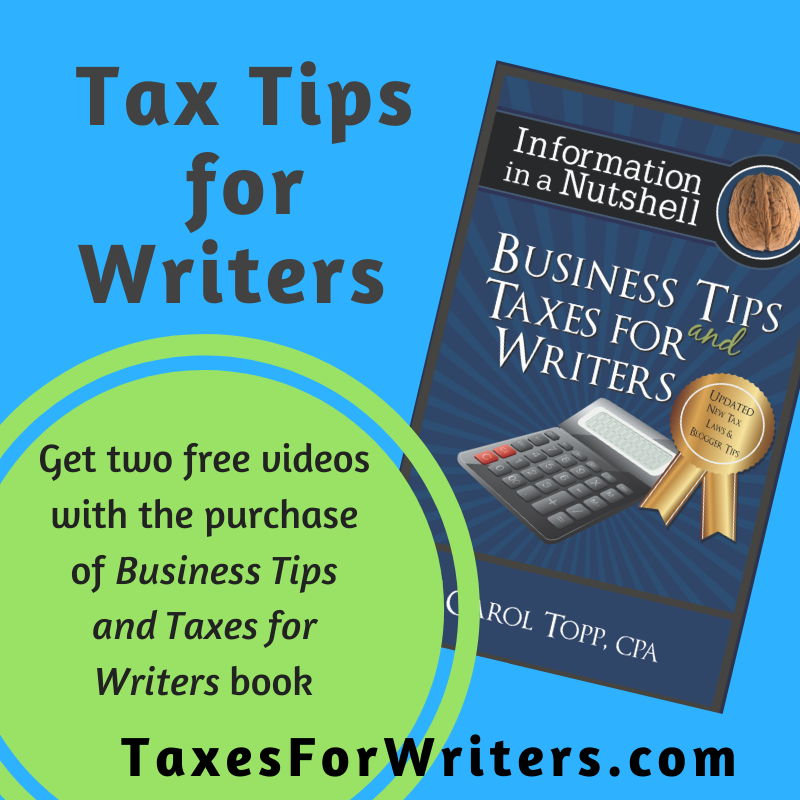 Tax Preparation for Writers
These videos are recorded webinars about 45 minutes each and cover:
The IRS tax forms explained in plain English
A sample tax return for an author
Tax deductions that are typical for writers
The new tax deduction for small business
Tax tips from a CPA and author
The forms you need to send to subcontractors
When you need to charge sales tax and when you don't!
The IRS red flags that could trigger an audit
These videos are for writers who are earning money from their writing or have expenses related to writing and wonder what they can deduct on their tax return. This is professional advice from a CPA and author.

After you complete your purchase (via Payal) you will be directed to a page with the video links. Bookmark this page so you can watch the videos later. I will also send the links via an email.

If you do not receive the email, contact me, Carol Topp CPA. at Carol@TaxesForWriters.com
I hope the book and videos are helpful to you as you prepare your tax return.

Carol Topp, CPA
TaxesForWriters.com