March 15th, 2019 → 7:07 am @ Carol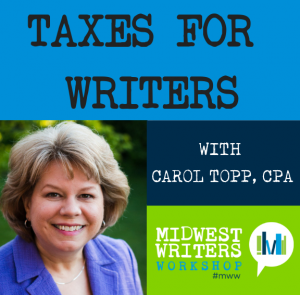 Author and CPA Carol Topp claims she can explain federal income tax, self-employment tax and sales tax in clear English. Let's hear her try! She will explain tax deductions and record keeping tips to make your life easier. This course is not as dull as it sounds and loaded with examples!
In this course you will learn:
Know what tax forms you (or your tax preparer need to file)
Have the IRS tax forms explained in plain English
See a sample tax return for an author
Know what tax deductions are typical for writers
Tax tips from a CPA and author
Understand what forms you need to send to subcontractors
Know when you need to charge sales tax and when you don't!
Be alert to IRS red flags that could trigger and audit
This course is for writers who are earning  money from their writing or have expenses related to writing and wonder what they can deduct on their tax return. This is professional advice from a CPA and author at a great rate!
Two pre-recorded video sessions including downloadable pdfs of handouts of the PowerPoint slides. Sessions are about 45 minutes each.
Students will also have instant access to the videos (until April 15, 2019) once they register, as well as to a private Facebook group (MWW + Taxes for Writers) to ask questions of the presenter.
Tags: business deduction, IRS, tax deduction, taxes, writer