January 10th, 2018 → 11:14 am @ Carol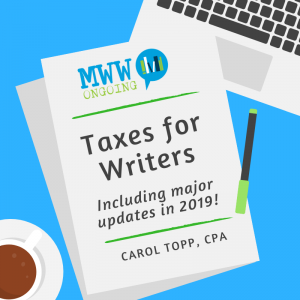 Midwest Writers Workshop is presenting an online course
Taxes For Writers
 Starting DATE and accessible until DATE.

Writers are word people who usually hate numbers and preparing their tax returns, but don't like paying too much in taxes either!
As an author and accountant, I will share with you tips and to prepare your 2018 tax return (the one due April 15, 2019).
The tax laws changes and so did the tax forms, so everything will look different in 2019! I'll walk you through it.
In this course you will learn:
New tax law changes that benefit authors (and all small businesses)
Why hobby expenses were eliminated
Where to report your income from writing, book sales, etc.
What expenses are tax deductible for writers and authors
What the new tax forms will looks like
Pitfalls to look out for on your tax return
The hidden tax that may catch you by surprise!
This course is for writers who have started earning money from their work or book sales and need to learn how to prepare their tax return correctly! This is professional advice from a CPA and author at a great rate!
Format: Two pre-recorded video sessions including handouts of the PowerPoint slides. Sessions are 30-40 minutes each. Plus access to a Facebook group to ask questions of me, the presenter, Carol Topp, CPA.
The course officially begins on DATE and the entire course (instructional videos and downloadable pdfs) will be available to you to access at any time you wish. Watch on your own time, at your own convenience, until DATE.
Cost: $80 (if you paid my hourly rate it would be $225!)

Carol Topp, CPA
Author Business Tips and Taxes for Writers
Tags: author, professional writer, self publishing, writing business