January 21st, 2017 → 1:30 pm @ Carol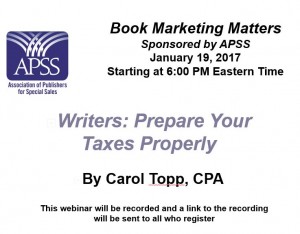 I gave a webinar "Writers: Prepare Your Taxes Properly" earlier this week. The link to the recording of the webinar is www.bookapss.org/ToppTaxTips.wmv
The webinar lasted 90 minutes and there were dozens of excellent questions from the attendees. It's a large file and may take a few minutes to download.
I go over the Form 1040 Schedule C line by line. Any small business owner, but especially writers, self-publishers and bloggers should find it helpful.
Mac OS users who cannot open recordings saved as .wmv files, can use a free open-source Media Player called VLC to open it. (https://www.videolan.org/vlc/index.html)
Thank you to the host Brian Jud of Association for Publishers of Special Sales APSS
Please attend the next APSS webinar on Jan 30; 6:00 pm ET "How to Sell More Books to Non-Bookstore Buyers," By Brian Jud; 6:00 pm ET.
For a list of all the benefits of the Association of Publishers for Special Sales membership visit https://community.bookapss.org/page/member-benefits Initial annual membership to join APSS is $89 but you can save $29 by registering as a member of an APSS chapter or partner group. To join, please go to https://pro.bookapss.org/join-application and follow the prompts.
Another service APSS provides is selling your books on a commission basis to buyers in special-sales markets. Why not add your book to our catalog? Go to www.premiumbookcompany.com for details.
You may want to receive Brian Jud's bi-weekly special-sales ezine, "Book Marketing Matters." It contains regular columns by industry professionals: John Kremer, Guy Achtzehn, Rick Frishman, Eric Kampmann, a guest cover designer and others.
Email to brianjud@comcast.net?subject=subscribe. His next newsletter will be sent on January 30. All past issues are available at https://www.bookmarketingworks.com/mktgmattersnews/ if you would like to see examples.
Carol Topp, CPA
Save
Tags: author, bloggers, home office tax deduction, IRS, tax deductions, tax return