October 1st, 2012 → 8:00 am @ Carol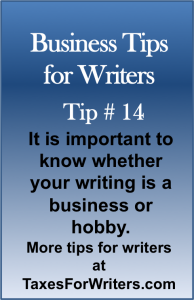 Most authors begin a writing business as a hobby, telling stories for fun and personal enjoyment. How do you know when your writing hobby turns into a writing business? A tricky question. Chapter 1 of my book, Business Tips and Taxes for Writers, answers just this question:
"How do you know if you have a hobby or a business? There is no set dollar threshold that changes a hobby writer into a professional. It depends primarily on your motivation for writing. The IRS has a few factors to consider:
– The time and effort you spend in the activity can determine hobby status
– The manner you conduct the activity, such as doing advertising or bookkeeping
– Your expertise and prior success in a similar activity
– Your profit motive and prior history of profits
– Other sources of income"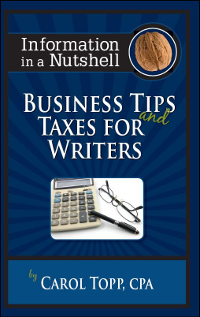 Take a look at your writing. Do any of these points seem to describe or determine whether or not your writing has become more than a hobby? You may be the owner of a writing business. Exciting! You now need to look at your writing in an entirely new light. For more details as to the distinction between writing as a hobby or business, Business Tips and Taxes for Writers provides the information you as a writer need. And if you feel your writing has become a business, it is the perfect place to go for the right steps to start operating your business!
Carol Topp, CPA