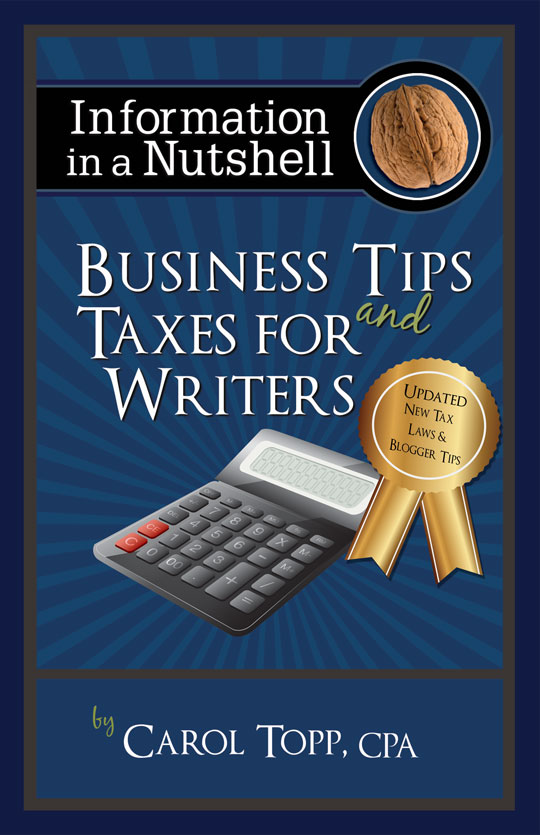 Updated for 2018 new tax laws!
Business Tips and Taxes for Writers
© 2018 by Carol Topp, CPA
Paperback : 141 pages
ISBN: 978-1-931941-21-1
Published by Media Angels, ® Inc.
Fort Myers, FL 33912 www.MediaAngels.com
Dimensions: 8.4 x 5.3 x 0.3 inches Shipping Weight: 6.0 oz
Paperback signed by the author $14.95 plus $4.33 shipping and handling.
Tax Season 2020 special
During tax season 2020, I am thanking customers who purchase a book from me with two videos.
These two videos on Tax Tips for Writers were recorded in 2018, but very applicable today. They cover:
Part 1:
Schedule C tax form line by line with a sample tax return from an author
Tax deductions for writers
Part 2:
Special tax rules for writers
Self Employment Tax
New tax law changes
Sales tax
After you complete your purchase (via Payal) you will be directed to a page with the video links. Bookmark this page so you can watch the videos later. I will also send the links via an email.
If you do not receive the email, contact me, Carol Topp CPA. at Carol@TaxesForWriters.com

Ebook download in pdf format $9.95