February 23rd, 2016 → 9:27 am @ Carol
I write as a hobby. Do I need to worry about taxes? I make a little income in some years. Is my hobby income taxable?
Yes, your hobby income is 100% taxable.
Any income you make from writing, freelancing, your blog, etc is taxable income, even if it's just a hobby.
The IRS states:
"All income is taxable unless it is specifically exempted by law. Income that is taxable must be reported on your return and is subject to tax."
(https://www.irs.gov/businesses/small/article/0,,id=117613,00.html)
The IRS does not give hobby writers a pass or tax-free income. Bummer.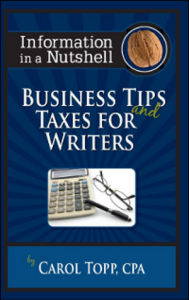 Read Chapter 1 of my book, Business Tips and Taxes for Writers, for more information on hobby income.
Carol Topp, CPA
Tags: hobby writer, taxable income, taxes