July 30th, 2012 → 8:00 am @ Carol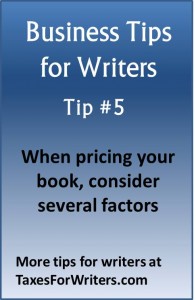 So you've spent countless hours writing, drafting, and editing your book. As you send it off to the publisher, you may be thinking, How should I price my book? The answer to this question could be the difference between time well spent or a trip back to the drawing board. Fortunately, there is great advice out there for authors in regards to pricing your book; I have some here for you from my book, Business Tips and Taxes for Writers! Take a look at this excerpt from Chapter 7, Financial Planning for Your Business:
"When pricing your book, you should consider several factors:
– Your production costs. Some experts recommend you price your book 5 to 8 times the cost to print the book. *For more details about these costs, see one of my earlier posts here.
– Your start-up costs which you wish to recoup as soon as possible
– Ability to discount your book and still cover your costs. Distributors, booksellers, and Amazon all expect steep discounts from author/self-publishers of 50-67%.
– Retail price of competing books. Overcharging what the market can bear will reduce your sales even if your book is better than the competition."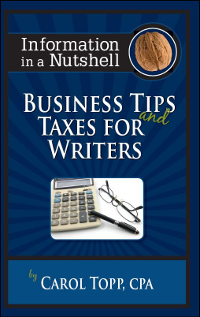 Authors, just like you, I had to learn the ins and outs of book pricing. It is a skill to master, but once you learn, your writing business will reap the benefits!
Find more business tips for your writing business here.
Carol Topp, CPA