October 26th, 2012 → 9:58 am @ Carol
I enjoy speaking to writers group.
 Weird, for a writer to like public speaking, I know…
Last week I spoke to writers at Greater Harvest Workshops in Middletown, Ohio on Writing as a Ministry.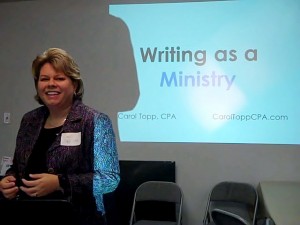 This weekend I'm speaking to the SICCOs (Sisters in Crime) in Columbus, Ohio on Business Tips and Taxes for Writers.
I even did a workshop via Skype to a writers group in East Texas from my home in Cincinnati!
 Pretty cool use of technology, huh?
I usually prefer working with Powerpoint slides and give attendees a handout  of the details.
Here's some examples:
Business Tips And Taxes Handout
I focus on business tips and taxes for writers. I try to make confusing topics clear and easy to understand.
Yes, I know I have my work cut out for me!
You can see all my speaking topics here
You'll also find handouts to my workshops there.
I'm  happy to customize a presentation to fit your group.
Drop me an email and we'll work something out!