June 7th, 2014 → 8:23 am @ Carol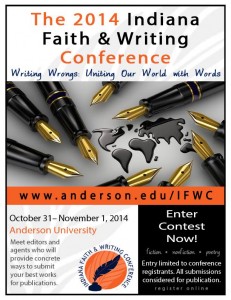 The English Department at Anderson University is pleased to present the Indiana Faith and Writing Conference (IFWC).
Formerly known as the Indianapolis Christian Writers Conference, hosted by Wesleyan Publishing House, this event has been beloved by writers for more than a decade. The IFWC provides publishing opportunities for those communicating the Good News through the written word while mentoring writers to create works of literary and academic excellence. Our keynote speakers this year are Ken Abraham, Philip Gulley, and Lisa Sharon Harper.
Visit the Indiana Faith and Writing Conference website
Oct 31-Nov 1,2014
Anderson, IN
I'll be doing workshops on  "Taxes for Writers in Clear English" and "You're in Business Before You Make Money."
Carol Topp
Tags: author, writer, writing business, writing conference