November 26th, 2012 → 5:34 pm @ Carol
Join me for an interview on Writing and Publishing Radio with author and podcast host Quinn Barrett.

https://www.writingandpublishingradio.com/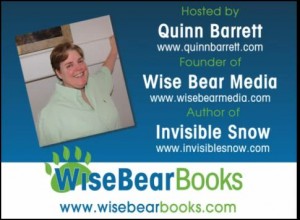 Have a digital book? Join co-host Carol Topp and her guest Quinn Barrett as they discuss all things digital media.
Quinn is the master mind behind Wise Bear Books and the upcoming Wise Bear Books 2012 Digital Books Award Competition.
This competition is an opportunity for authors to expose their work to a broad audience.  The winner(s) receive exposure for their work, which helps build your audience and bottom line – make sales!
https://www.wisebearbooks.com/
Host Carol Topp is a faithful follower of Quinn's podcast All Things Digital Media where she keeps up to date on the fast changing world of digital and electronic books.
https://www.blogtalkradio.com/wisebearbooks
Quinn is also author of the soon-to-be-released Digital Publishing Profits. Look for it in January 2013.