July 29th, 2014 → 2:46 pm @ Carol
I offer several of my books as pdf downloads and sell them through Clickbank.com.
I can tell that sometimes my books have been illegally shared or downloaded. I try to protect me copyright and so I was intrigued by a new method to deter sharing of pdf files.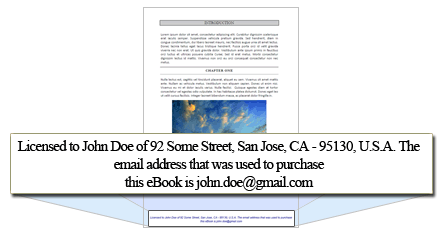 WordPress PDF Stamper Plugin – Stamp Your eBooks with Customer Details to Discourage File Sharing
Click here to visit PDF stamper website
The WordPress PDF Stamper plugin allows you to dynamically stamp a PDF file with the customer's details (example: name, email, address etc.) upon purchase. The PDF stamper then sends the stamped copy of the PDF file (your eBook) to the customer via email.
Additionally, you can password protect the stamped PDF files with the customer's email address and encrypt the PDF files to prevent users from being able to copy, modify or print the content of the file.
The website says it integrates with Clickbank.com and Paypal.com.
Check out the plugin features here.  (this is not an affiliate link. I've not bought or tested the plugin yet.)
If you use it, drop a comment and tell me what you think.
Or share how you protect your ebooks from being shared.
Carol Topp, CPA
Tags: author, book sales, copyright, ebook