November 8th, 2014 → 6:23 pm @ Carol

How to Start a Publishing Business for the Self-Published Author.
Thursday, March 24, 2016 6:00 PM – 7:30 PM EDT
Register at: https://tinyurl.com/ha6kk66
Previous Webinars
Business Tips for Writers and Publishers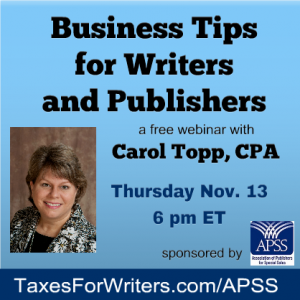 Brian Jud and the Association of Publishers for Special Sales (APSS) has asked me to share my business tips for writers in a webinar. I'll be helping writers understand when your business starts, record keeping and choices of business structure including whether your business should be an LLC.
View on YouTube: https://youtu.be/1pENlTs1UOE
Business Tips Handout (pdf file)
Tax Tips for Authors and Publishers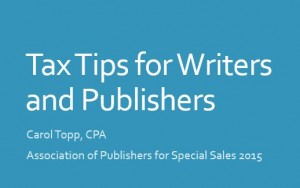 Author and CPA Carol Topp claims she can explain federal income tax in clear English. Come hear her try! She will discuss tax deductions and special tax rules for authors and publishers. Carol will also share record keeping tips to make your life easier. This webinar is loaded with examples to make your writing business less taxing.
 View on YouTube: https://youtu.be/jaVzZJXTLg8
Tags: business, LLC, professional writer, writers, writing business