September 22nd, 2014 → 8:56 am @ Carol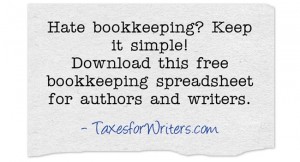 I had lunch with a friend, Joules Evans, author of Shaken Not Stirred: A Chemo Cocktail from my writers group and we talked about taxes and the dreaded record keeping.
Joules is a writer (and a very funny one!) and she detests keeping records, but she knows it is important to her success as a business owner (and because I nagged her!)
I tried to make it easy on her and shared this spreadsheet I created with her. Joules doesn't need accounting software like Quickbooks to track her income and expenses. A simple spreadsheet will do.
Then I had an "aha!" moment and thought I'd share it with you all, too.

(click to open the spreadsheet)
Please feel free to share this spreadsheet. All I ask is that you do not delete the box on the first tab giving me credit.
I hope it's helpful!
Carol Topp, CPA
Tags: author, business, record keeping, writer, writing business