August 6th, 2012 → 8:00 am @ Carol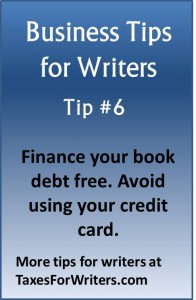 A crucial step toward the success of your book is to establish a financing plan, which seeks to answer the question of how to pay for those initial costs. This is easier said than done, however. There are many factors to consider when drafting this plan. I would like to bring you some advice from my book, Business Tips and Taxes for Writers, before making that final decision:
"As you can imagine, start-up costs can add up quickly. Most authors lay out all or most of the start-up expenses themselves, unless they are awarded an advance from their publisher. There are a few options to finance your book including using your savings, obtaining a loan, or going into debt. I do not recommend taking out a loan or using your credit card to finance your book…
Instead of using debt, I recommend you save up as much as possible beforehand. Plan carefully how much you will need in start up expenses. Shop frugally for everything from editors to ink to keep your expenses low. Do as much as you can yourself, learn a lot, and grow slowly."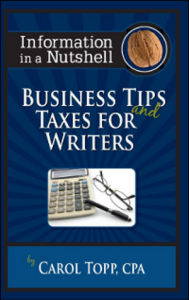 There is a way to finance your book debt-free – you can do it, authors! Looking for business advice for your writing business? Pick up a copy of Business Tips and Taxes for Writers. Each chapter speaks on an important piece of your business. Find the help you need!
Carol Topp, CPA