January 29th, 2015 → 1:30 pm @ Carol
Writer, author or blogger, did you know you are also a business owner?
Carol Topp, CPA will help you understand the business side of writing in this episode of the Dollars And Sense Show podcast
This podcast was recorded in front of a live audience at the International Business of Writing Summit in Louisville, Kentucky.
Topics covered:
Business structures, especially LLC status for your business
Hobby writing
Start up expenses and how to deduct them
Using a Doing Business As (DBA) fictitious name
Here's a handout of the slides.
Podcast host Carol Topp mentions her book, Business Tips and Taxes for Writers.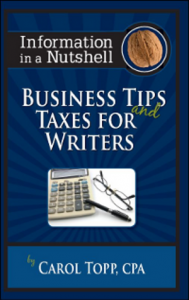 In the next episode of the Dollars and Sense podcast, Carol will finish this workshop on business tips for writers and share tips on record keeping, taxes, and software.