September 12th, 2018 → 3:44 pm @ Carol
Probably a daft question, but here goes.

When I get set up, do I need a contract between myself (the author) and "PurpleWomble Publishing" (or whatever its going to be called)?

-Andy
Dear Andy,
No contract is needed if you are the owner of PurpleWomble Publishing, but you need to register a DBA (Doing Business As) fictitious name registration in your state.
Visit https://dbafilingonline.com/dba-by-state/ for your state requirements.
Getting a name and DBA for your publishing business are some of the topics Carol discusses in her course on How to Create a Self Publishing Company.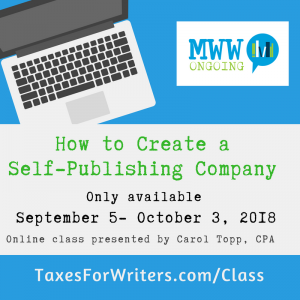 This course is for authors who have decided to self-publish and need to understand how to establish a business that will be viewed as a legitimate and respected publishing company. This is professional advice from a CPA and author at a great rate!
In this course you will learn:
3 things you can do today to start your publishing business
What filings you need to do with the IRS and your state
Setting up a business bank account
Business licenses you will need
What business structure works well for authors
Format: Two pre-recorded video sessions including handouts of the PowerPoint slides. Sessions will be about 30 minutes each. Access to a Facebook group or Facebook live session to ask questions of the presenter.
Cost: $80 (if you paid my hourly rate it would be $225!)
Carol Topp, CPA
Author Business Tips and Taxes for Writers
Tags: self publishing, writers, writing business