November 24th, 2013 → 9:19 pm @ Carol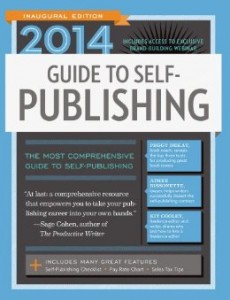 My article titled "We Love Sales But Not Sales Tax"is included in the 2014 edition of Writers Digest Guide to Self Publishing.
In the article I discuss:
When an author needs to charge sales tax (and when you don't!)
Sale tax and the internet
Sales tax on electronic books (About 24 states charge sales tax on ebooks!)
Recent sales tax legislation and what it means to you
Tips on collecting and remitting sales tax
Ideas on how to simplify your sales tax record keeping
I think you'll find it helpful.
The Guide to Self Publishing is full of other helpful articles (including another one by me titled, "Should My Writing Business be an LLC?") and lists of resources for self-published authors.
Maybe you should add this book to your Christmas list!
Carol Topp, CPA
Tags: book sales, sales tax, self publishing, tax, writer