September 3rd, 2012 → 8:00 am @ Carol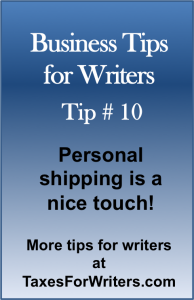 With your inventory stocked and marketing strategy ready to go, it may be time for your writing business to start sending your product to customers. Congratulations! Now, how do you go about that? What does shipping your book entail? My book, Business Tips and Taxes for Writers, details just what you need to know to personally ship your book:
"You may want to start your business by shipping books yourself. This will involve:
Receiving the orders, typically via an electronic shopping cart on your website
Packaging the order
Printing a label
Getting the package to the post office or delivery service
If your orders are small or infrequent, you might find filling orders as an enjoyable way to respond to your customers."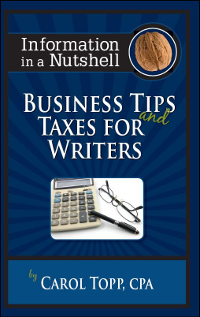 Personal shipping could just be that extra touch to boost your customer base. It could be worth the time and effort. However, you may get to a point where personally shipping your books just isn't feasible. What do you do then? There are several applications and tools available for your use to aid your writing business. Stop by for Tip #11 to find out!
Carol Topp, CPA