September 10th, 2012 → 8:00 am @ Carol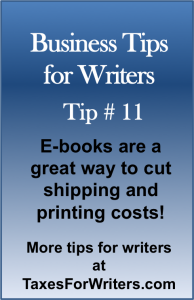 As our world continually moves toward the electronic, sooner or later, your writing business may need to consider whether E-books would be a wise investment. But, just what are the pros and cons of E-books for an author? You came to the right place! Take a look at this passage from my book, Business Tips and Taxes for Writers, for guidance:
"Other authors are turning to electronic books and not printing physical books at all. There are certainly advantages for an author in electronic books. There is no inventory to manage, no printing costs, no storage space needed, and no shipping costs. The disadvantages include reader reluctance to purchase E-books (although this is rapidly changing), lack of bookstore sales, and the pride in seeing your book in actual print…"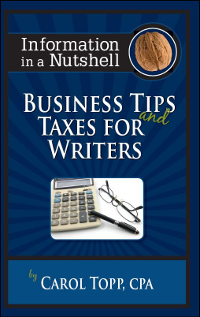 Consider your book or book collection, authors. Does its size, nature, and demand require an E-book? If so, be prepared to enter an entirely new, and exciting, world of electronic book sales! Be sure to finish this passage in Business Tips and Taxes for Writers as I detail which types of books work best in electronic form, as well as great resources for E-book conversion.
Carol Topp, CPA