October 21st, 2017 → 7:15 pm @ Carol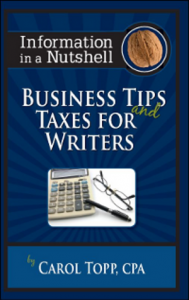 I just sent an updated copy of Business Tips and Taxes for Writers to my publisher!
The book was written in 2012, had a few corrections in 2016, but needed an update. Any book on taxes usually needs an update every few years.
Nothing I wrote about taxes was incorrect so you can breath easy if you bought a copy of the book and followed my advice!
Here's some of the changes:
Website links needed to be updated
Simplified method to calculating Business Use of the home
Mileage rates, per diem rates were updated
The IRS Schedule C for sole proprietors changed slightly
I added some additional information about LLC status
I mentioned my bookkeeping spreadsheet for authors
and biggest change of all…
added a chapter (a long chapter ) on taxes for bloggers. Yes, blogging can be a business for many people and there was very little reliable information on taxes for bloggers.
The publisher hopes to launch the new book in late January 2018, just in time for tax season 2018!!
Look for announcements on social media, email and here, of course.
Carol Topp, CPA
Author Business Tips and Taxes for Writers
Save
Save
Tags: author, bloggers, IRS, tax, tax deductions, taxes, writers