August 27th, 2012 → 8:00 am @ Carol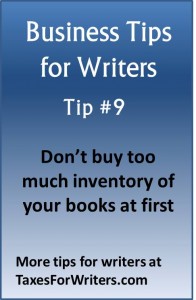 Your book is ready to go: written, published, printed. Now, how should you approach inventory? Is there an optimal number of book kept in reserves to best benefit your business? How much will that set you back? No need to wonder about the answers to these questions; you can find them right in my book, Business Tips and Taxes for Writers! The following excerpt details what you should know about your book's inventory:
"Unless you work with a publisher or your books are printed on demand, you will need to outlay a sizable amount of money to have your books printed. Many self-published authors try to buy as many book as they can afford because small print runs can be expensive. The larger the volume, the lower the price per unit. Would you rather pay $2.50 per book and buy 1,000 or pay $0.50  per book and  purchase 4,000 copies? This is a difficult decision. You may be uncertain of how many copies you can sell, and do not want to over-buy.
To make the decision a bit easier, consider carefully the number of books you expect to sell in the first year and have no more than that printed. Dan Poynter, author of The Self Publishing Manual recommends no more than 500 copies for your first print run."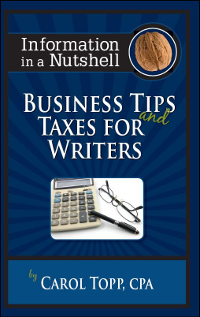 Smart planning will enable you, authors, to keep your inventory at just the right amount for success! For more business tips, visit my blog or flip thru the pages of Business Tips and Taxes for Writers. It's full of the information you need to jump start your writing business.
Carol Topp, CPA