September 24th, 2013 → 12:42 pm @ Carol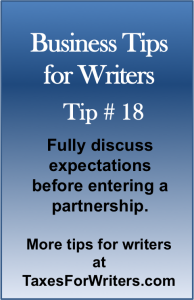 Considering partnering with a fellow author to co-write a novel together? Before you dive right in, there are several factors to consider.
My book, Business Tips and Taxes for Writers, details a few key areas to look into before you sign that contract.
"Before you enter into a partnership, even if it i just a verbal agreement, discuss with your partners everything that can go wrong.

                – Discuss expectations and vision.

                – Evaluate what each partner brings to the table.

                – Discuss how to share workload.

                – Discuss profit-sharing. 50/50 rarely works.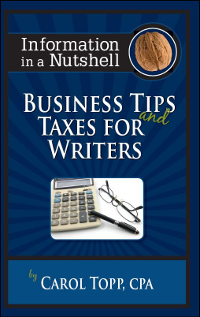 It isn't very often that I advise authors to enter into partnerships. There is a lot to consider, and issues can get tricky. Need help making this decision?
Business Tips and Taxes for Writers is a great resource that has much more to say on this topic.
For additional advice, see my recent blog post on writing with a friend.
Carol Topp, CPA