Speaker One Sheet
Download speaker one sheet for Carol Topp CPA here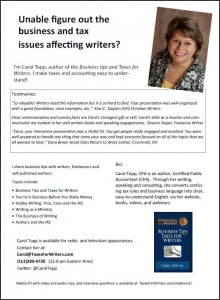 Speaking Topics
Carol Topp is one of those rare people who enjoy public speaking! The greatest compliment she ever received was from an audience member who told her (after sitting for 90 minutes) that he had stayed interested the entire time! Pretty high praise for a CPA to receive!
Some of Carol's popular seminars include:
You're in Business Before You Make Money
Taxes for Writers in Clear English (it's not as dull as it sounds!)
Author to Entrepreneur (also titled Book to Business)
Hobby Writing: Pros, Cons and the IRS
Writing as a Ministry
See more speaking topics here.
Interview Questions
Interview Questions and Answers for the Author Carol Topp
Author Carol Topp, CPA Bio
Carol Topp, CPA (CarolToppCPA.com and TaxesForWriters.com) is an author and accountant specializing in tax preparation, small/micro business accounting, and nonprofit accounting. Through her writing, speaking and consulting, Carol converts confusing tax rules and business language into clear, easy-to-understand English for readers. She is the is the author several books including Business Tips and Taxes for Writers, the Micro Business for Teens series and Homeschool Co-ops: How to Start Them, Run Them and Not Burn Out. She has also published several magazine articles and short ebooks.
Carol is a member of the Ohio Society of CPAs, the National Association of Tax Professionals (NATP), The National Association of Independent Writers and Editors (NAIWE) and the Ohio Society of CPAs Speakers Bureau and has presented numerous workshops on money management, business start up and taxes to writers groups and community organizations.
Carol was born and raised in Wisconsin and graduated from Purdue University with a BS in Engineering. She worked for the US Navy as a cost analyst before obtaining her CPA license. Carol lives in Cincinnati, Ohio with her husband and has two daughters.
Photos of Author, Carol Topp, CPA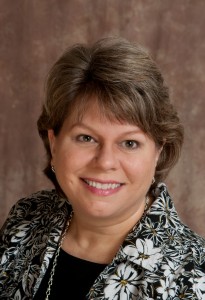 Press Releases
Books Mentions
Read reviews here: https://taxesforwriters.com/book/reviews/
Audio/Podcast Interviews
Hear Carol discuss business tips and taxes for writers :
Judith Briles Your Guide to Book Publishing podcast interview on what expenses are tax deductions for writers.
https://itunes.apple.com/us/podcast/tax-tips-strategies-for-authors/id493527713?i=251064760&mt=2
The Freelance Life podcast with Janice Campbell on what writers and editors need to know about the IRS, tax returns, and accounting.

https://news.naiwe.com/2010/03/01/words-matter-understanding-the-irs-your-tax-return-and-your-accountant/
All Things Digital Media podcast with Quinn Barrett on taxes and business issues

Information in a Nutshell: Writing and Publishing

YouTube Videos:
Carol has several video blogs on her YouTube Channel Playlist for writers.